What is QUICKSTOCK™?
QUICKSTOCK™ is Euromarc's vendor managed inventory (VMI) system.
Simply put, it's like having your own personalised mini supply store right there on site, so you never run out of the consumables you regularly use.
It's similar to consignment stock, but different in that the entire system is managed for you – it's set up to take the hassle out of inventory management, saving you time and money, while increasing production.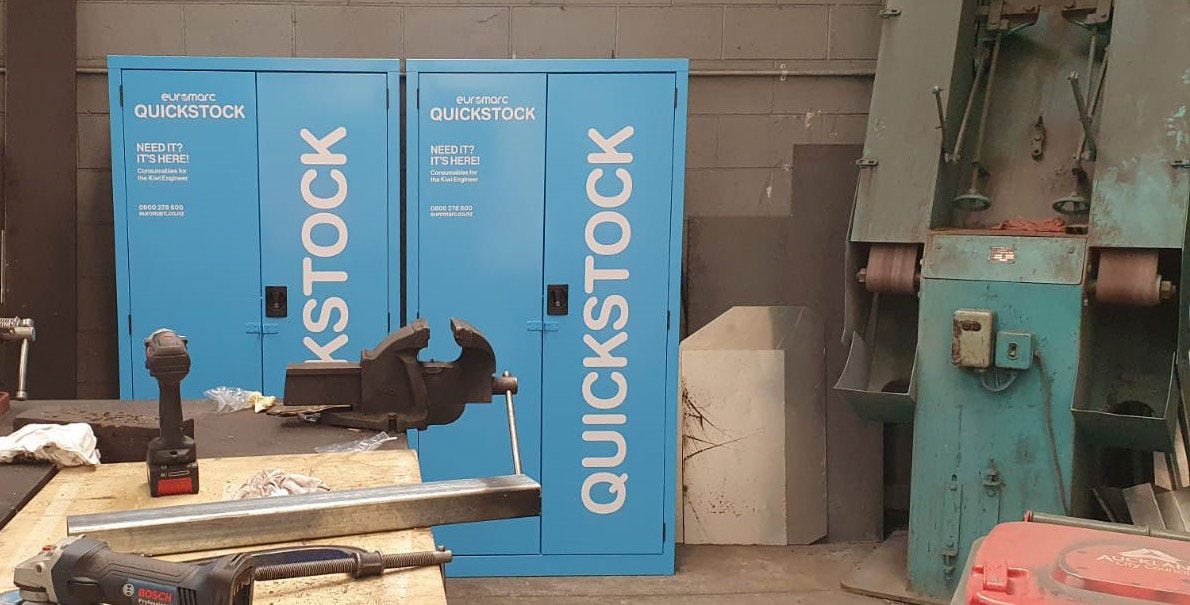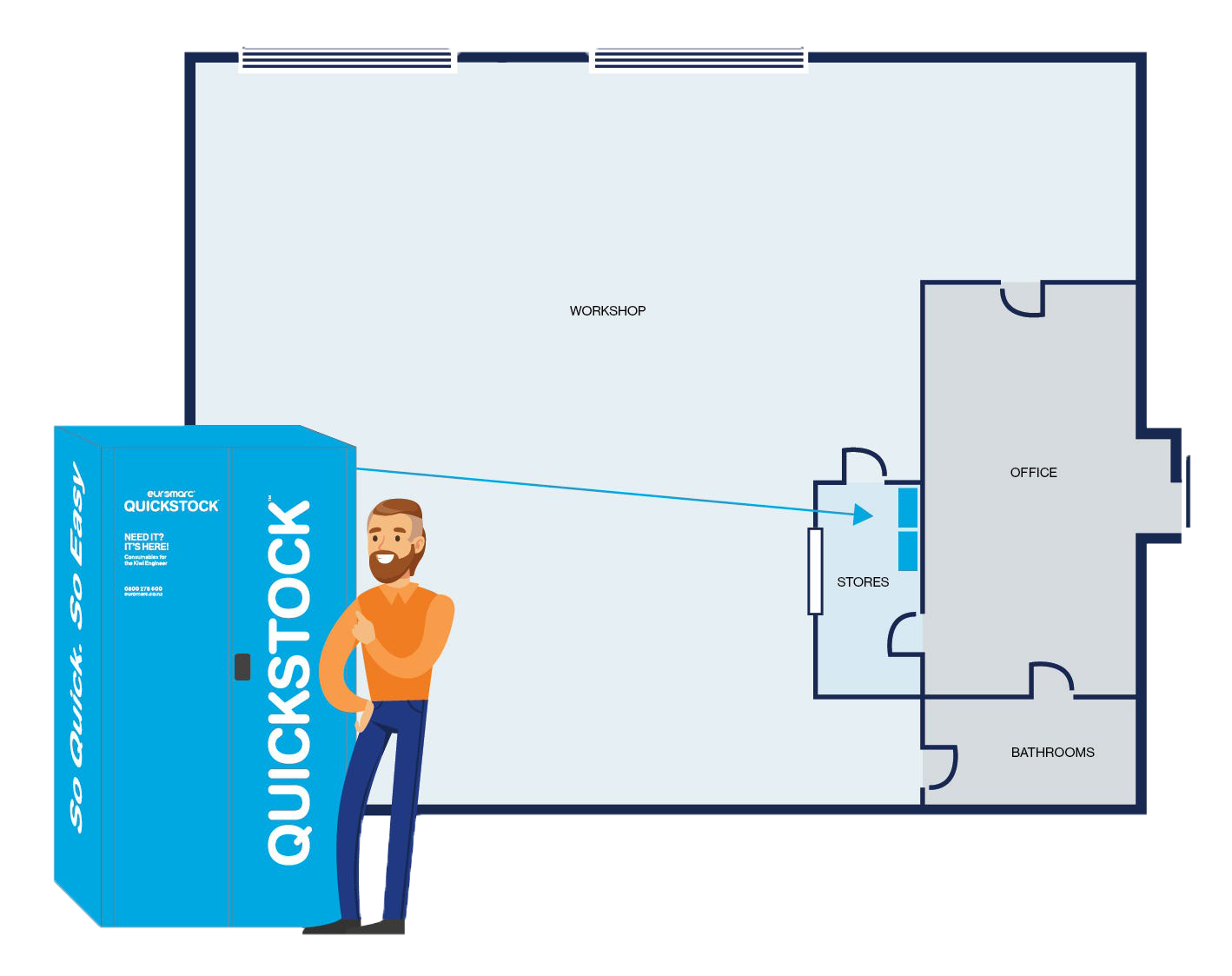 CONTROLLED STORE MODEL
Stock is stored inside the QUICKSTOCK™ cabinet/s located in the storeroom or anywhere you like, such as an office away from direct access to the engineers. It is then dispensed to the engineers by the purchaser or stores person. Alternatively the stores person can use the cabinet to replenish storeroom shelves.
WORKSHOP MODEL
Stock is stored inside the QUICKSTOCK™ cabinet/s which are placed out on the workshop floor, where engineers can access stock themselves as and when they need it.
QUICKSTOCK™ cabinets come with a standard lock system including additional keys as required.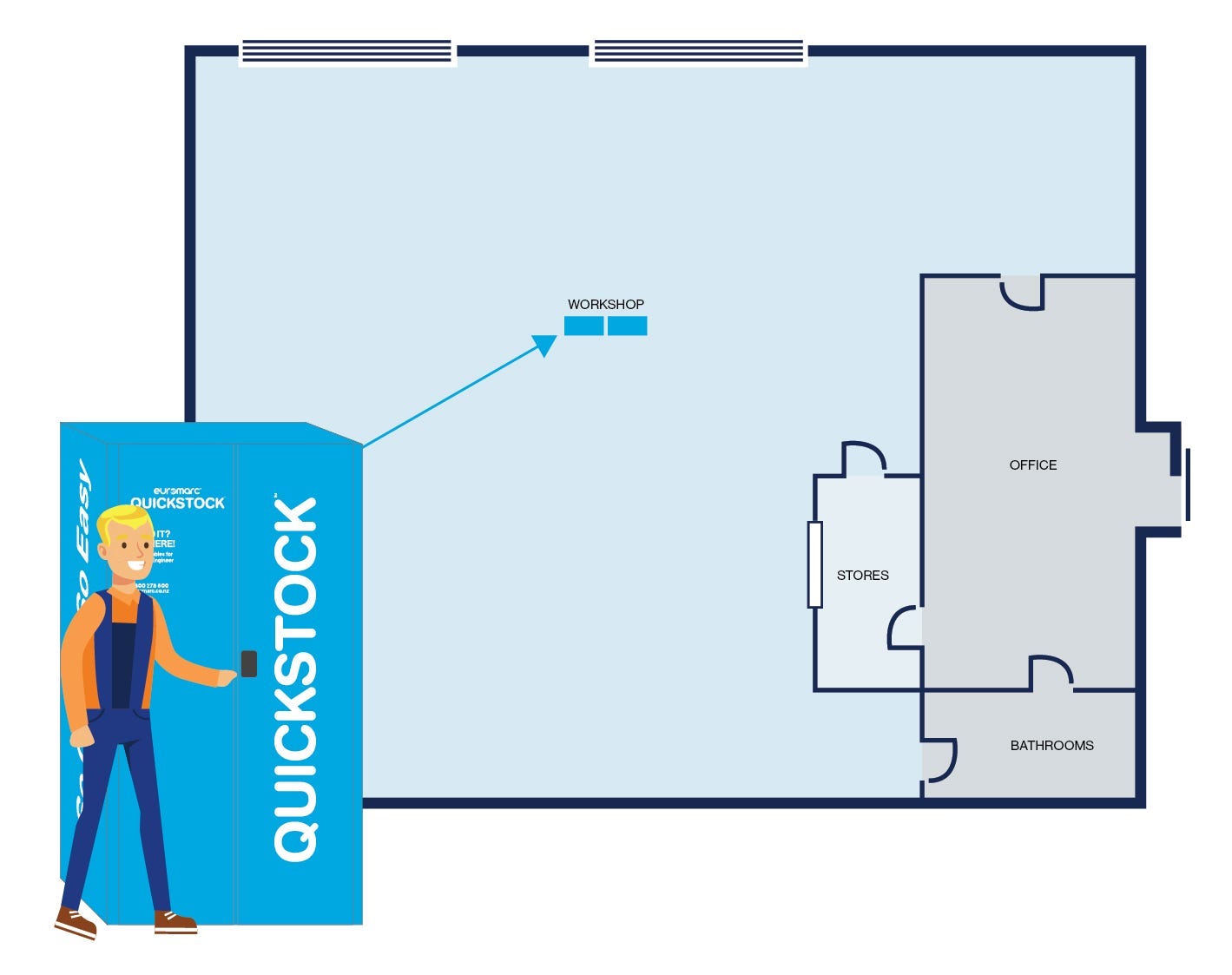 WHICH MODEL IS RIGHT FOR US?

Do I need to buy all my stock from you?
We'd love it if you did, but no, you don't have to order all your consumable stock from us.

Some customers jump in with two feet and have all their consumable stock in the QUICKSTOCK cabinets, while others like to dip their toes in first and start by just having the stock, they already buy off Euromarc in the cabinets and add to it as they see fit.

As with any ordering situation, the stock we supply you is completely up to you. Only stock items approved by you will ever go into the cabinets, so you won't be finding any surprise items on your monthly invoice.

If you're not wanting to keep all your eggs in one basket, you're perfectly entitled to keep purchasing from other suppliers as well, however only QUICKSTOCK items are to be kept in the cabinets to enable the replenishment cycle to run smoothly.

We find most companies who start off with just a selection of consumables in the cabinets end up adding more products to the cabinet as they get used to the system and experience the benefits and time savings from not having to place so many purchase orders each month. Sometimes things just need to be experienced to be believed!
What happens if I reassess pricing down the track and find its cheaper with another supplier?
It's great to keep your finger on the pulse and be aware of all your options to make sure you're getting the best value for your business. With QUICKSTOCK you are free to add or remove stock items from the cabinets at any time, so should you want to switch an item to another supplier you can.

We're very transparent with our pricing. Any items in a QUICKSTOCK cabinet are charged at pack pricing rates which can be found when you login to our website. This pack price rate is regardless of how much, or how little is used throughout the month.

While it can be tempting to jump over to another supplier offering a slightly cheaper price for a line item, the QUICKSTOCK system also provides savings in another way, and that's in terms of the time savings of not having to manage stock and place orders. When you include the labour cost of stock management to your product purchase cost, customers often find it would cost them more to make the switch.

Of course, if you simply find the system is not for you, that's absolutely fine. There's no locked in contracts, and if you want it out, we'll take it out. No questions asked, and no hard feelings.
Who are your replenishers?
The guys and gals replenishing our QUICKSTOCK cabinets are local individuals whose responsibility is to count the stock, tidy and re-fill the cabinets and relay any changes required.

Outside of the replenishment, we have a dedicated QUICKSTOCK operations team who do the behind-the-scenes work including training and managing the local replenishers, organising and processing monthly QUICKSTOCK orders, and adjusting cabinet stock where requested.
How can we keep control if you take over stock management?
It's completely understandable that the prospect of handing over your stock management to a supplier can be a little daunting. In running your operations, you want to have control, and the good news is, you still will.

QUICKSTOCK is not about handing over control to us. Throughout the entire process everything is checked and approved by you. Nothing goes into the cabinet without your consent, and reporting allows you to see exactly what is being used and charged for each month – the system is very transparent. This includes pricing of which everything is charged at pack prices regardless of how much is used.

In terms of control over stock being used, the level of access you allow staff to the cabinet stock is up to you. With over 200 workshops using QUICKSTOCK throughout the country we've seen quite a few variations of how it can work, and we can work with you to find a solution that will work with how you like to do things.
What if we already have a preferred supplier we like to buy from?
There's no doubt about it, we're a supplier and we want your business. QUICKSTOCK is a system developed for businesses looking to get the best bang for buck both in terms of the consumables they're purchasing, but also in enabling better efficiencies and therefore productivity in the workshop.

If you have another supplier you prefer to work with, that's fine, it's completely up to you – no hard feelings.

With over 200 companies using QUICKSTOCK throughout the country, we're confident the system does what we say it does. Some companies start off with just some of their consumables in QUICKSTOCK to try out the system. There's no locked in contracts, and if it doesn't work for you, we'll pull it out.

The question is, are you willing to give it a chance?
We don't let the engineers have full access to stock...
That's fine! You don't have to change the way you distribute consumables to staff. Lots of QUICKSTOCK customers use the CONTROLLED STORE MODEL which allows you to restrict staff usage and have full control similar to what you might currently be doing.
It's like having a mini supply store on site - the stores person accesses the stock cabinets and distrubutes the stock as usual, but the real benefits come from the huge time saving in no longer needing to make regular purchase orders, manage the inwards consumable goods or monitor stock levels. You'll have a contstant supply of your regularly ordered consumables right there on site.
We've tried consignment stock...it didn't work for us
QUICKSTOCK™ is similar to consignment stock, but different in that the entire system is managed for you. We work with you to establish what consumables you regulalry use, and how much. The cabinets are stocked with plenty of these products to ensure you don't run out between replenishments, and our local replenishers visit monthly to count, restock and tidy the cabinets.
How does the pricing structure work?
We have individual and pack rates, and the beauty of QUICKSTOCK is all product is charged at pack rates regardless of how much you use. For example, if you stock linishing belts, you might use 1 or 2 in a month, but you still get pack pricing rates as if you were using 10.
Of course if there are 1 or 2 products you are concerned about, let us know. We don't want a few dollars standing in the way of you saving thousands per year.
What if we've already got a storeman & ordering system that works well?
That' excellent! QUICKSTOCK doesn't have to replace what's already working well, but can work alongside people and processes to take them to another level. You can still use the same processes you're used to, the big difference is you have the stock available on site, and stock levels are managed for you.
Instead of placing orders that can take 12 hours to arrive, you've got a mini Euromarc shop that takes 12 seconds to extract your products. There's no more needing to check stock, place orders, following up on backorders, short shipments or incorrect supply – the product is simply right there, on site and ready to be used. You'll benefit from a huge reduction in the costly process of purchase orders.
What about my other suppliers I've been with for years?
Moving to QUICKSTOCK doesn't necessarily mean you have to move away from your long-term suppliers. Quite a few of our QUICKSTOCK customers have started off with cabinets that just stock the consumables they already purchase off Euromarc, and we can always add or subtract products lines where required.
In today's business climate, no supplier would ever say you can't come back to them or raise their prices – we all want your business. At the end of the day, you need to make a decision that is right for you and your business. With QUICKSTOCK, you're not tied into any long-term contracts, and if the solution doesn't work for you, we'll take it out. It's that simple.
I like to own all the stock on site
That's perfectly understandable. With QUICKSTOCK, you own everything outside of the cabinets. It's like having your own customised Euromarc shop right there in the workshop – as soon as a product is removed from the cabinet its yours.
How do we know what your products are like? The guys are pretty stuck on what they use...
It's great your guys like using good product. Euromarc aim at the top end of product quality, specialising in consumables specifically for metal engineers.
We're more than happy to send you product samples to try out, or if you want to jump right in, with QUICKSTOCK there's no locked in contracts, and you only pay for what you use. If it doesn't work for you, we'll take it out. Hassle free.
What happens if QUICKSTOCK doesn't work for us?
If the solution simply isn't working for you, we can remove it. No worries, no hurt feelings. There's no locked in contracts, and at the end of the day, if the solution isn't benefitting you, it's not benefitting us. It has to save you time and money.
What's in it for Euromarc? What's the catch?
There's no catch. QUICKSTOCK is a fully open, transparent solution, with reporting so you can see exactly what's going on.
What's in it for us? Well we've got everything to gain by looking after you and your business. QUICKSTOCK is not a one off sale, it's having a loyal customer in 10 years time that we're able to continue providing value for. Basically, your success is our success.