Delivery
*Please note due to the recent COVID-19 restrictions, we may not be able to guarantee overnight delivery, however we will do our best during this time.
QuickShip products delivered overnight - or get $100 off*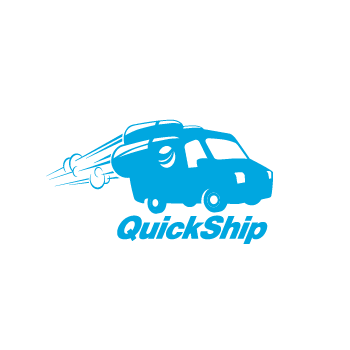 We know you need your products delivered FAST, and we're confident we can deliver. Look out for products marked with the QuickShip logo, and order before 4pm on any business day, and we guarantee to have them delivered the next working day, or you'll get a $100 web voucher!
This guarantee applies to any products marked with the QuickShip logo, across our entire range – abrasives, brushware, cutting tools, general supplies, machinery, polishing and safety - now that's commitment!
Not seeing a QuickShip logo? No worries! If your product doesn't have a QuickShip logo, we'll still aim for overnight delivery, and we'll still let you know if there's any delays. You just won't be getting a $100 voucher if you don't receive it overnight.
One low flat shipping rate
Any size. Anywhere. Just $7.90+GST.
There'll be no surprises here! All orders ship at one low flat rate. Size and location don't matter. We'll ship your order anywhere in New Zealand and it will only ever cost you $7.90+GST per order. (Please note, specialised delivery services, e.g. Saturday delivery, or urgent same-day delivery, may incur an extra fee, just ask the team.)
Delivery address
Our couriers will deliver almost anywhere!....Just not to a PO Box address. So when you place your order, make sure you give us a physical address.
For your security they're also pretty strict with getting your sign off before leaving the goods. If you need those products urgently, make sure there'll be someone there to sign for the order – if not, the courier will leave a card-to-call and you'll need to arrange re-delivery or pick it up from your local depot.
Tracking your order
You can view the status of your order by logging in to your Euromarc account online. Here you will find information on all your current orders and order history.
International shipping
Located outside of New Zealand? Contact us and we'll see what we can do. Simply send an email to sales@euromarc.co.nz and let us know where you're located and what products you're interested in or phone +64-6-278 6006.
International freight charges will apply
Products Considered Dangerous Goods (DG)
Please note for any DG products (eg. aerosol spray cans) delivery times can be longer. Allow between 2-4 days.
Keep this in mind for any urgent orders. You may wish to order DG products separately so not to hold up delivery of your more urgent products.
A few T's & C's…
To make sure we can deliver on our QuickShip guarantee, here's a few things to keep in mind…
• Orders must be confirmed by 4.00pm. While we strive to process all orders, the best way to ensure your order is confirmed is to: order online, call us on 0800 278 600 or email sales@euromarc.co.nz.
• If your QuickShip products have not arrived on the following morning, give us a call and let us know by 10.00am. We'll track the order to make sure it is delivered during the day.
• Delayed? We'll let you know right away! It's unlikely, but it can happen. If it's urgent, we'll find another solution.
• Couriers have days off too! Overnight delivery works on standard business days – this means Monday to Friday excluding public holidays.
• On occasions where the order deadline may need to be brought forward (e.g. availabilitytaking), we will provide notice via our email newsletter.
• Rural delivery? We'll process and dispatch your order, but it may take a little longer for delivery.
• DG classified products (which includes all aerosols and select other products) can take several days due to transport restrictions. Because these may be packed in with other goods it could delay a part or the whole of your order, particularly for Inter-Island deliveries, so we can't guarantee these orders.
• International orders overnight? We wish! Although we'll deliver internationally, overnight delivery can't be guaranteed – maybe one day! Give us a call for more details on international shipping.
• Exceptional circumstances – cyclones, earthquakes, road closures, traffic accidents…there are some things we can't control. We can't cover for courier network transit delays (including, but not limited to weather disruptions, courier error etc) and in these rare instances we'll still strive to get your products delivered on time, but we can't accept liability for delays out of our control.
• This new guarantee supersedes the 'Your Abrasives overnight, or its free!' guarantee.